Glossary

Explanation of terms used on the site for Canvas Printing.

Canvas Printing:
A canvas print is the result of a digital image printed onto canvas "paper" which is stretched, or gallery-wrapped, onto a wood frame and displayed.
Canvas prints are intended to reproduce the look of original oil or acrylic paintings on stretched canvas and are often created from personal pictures, artist photos, or stock images.

Printing Process:

Giclée:
The word giclée has come to be associated with other types of inkjet printing including processes that use fade-resistant, archival inks (pigment-based), and archival substrates primarily produced on Canon, Epson, HP and other large-format printers. These printers use the CMYK color process but may have multiple cartridges for variations of each color based on the CMYK color model (such as light magenta and light cyan inks in addition to regular magenta and cyan); this increases the apparent resolution and color gamut and allows smoother gradient transitions.
Canvas print has been associated with either dye sublimation or inkjet print processes (often referred to as repligraph or giclée).

Pictorem uses Modern large format printers capable of printing onto canvas rolls measuring 42 inch and 60 inch.

Ink Technology: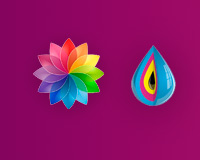 Pictorem use 8 HP Vivera pigment inks, including the HP three-black ink set of matte black, photo black and light gray inks, produce a wide color gamut and true neutral grays for outstanding image quality and detail The new HP 91 Printheads deliver a high firing frequency and small drop sizes (4 and6 pl) for excellent transitions, low grain and finer lines (0.067 mm minimum line width). Eight-ink printing with HP 91 775-ml ink cartridges featuring HP Vivera pigment inks:cyan, magenta, yellow, light cyan, light magenta, light gray, matte black, photo black.



Canvas Material

The canvas print material is based on cotton & Polyester.
Pictorem use Fine Art Matte Canvas. This specific material Produces true artistic quality—with outstanding image quality and precise colors—on the bright-white, slightly textured matte finish, providing excellent image stability and a long-lasting prints—up to 200 years indoors, away from direct sun, 2 up to 3 years in-window, unlaminated. The Canvas Printing material weight is 380 g/m² per ISO 536 Test Method.




Printing material brightness: 92% per TAPPI T-452 Test Method, 100% per ISO 2470 Test Method
Printing material thickness: 18 mil/457 microns per ISO 534 Test Method
Opacity: Greater than 98% per TAPPI T-425 Test Method
Whiteness: 120 per CIE Ganz 82 Test Method, 125 per ISO 11476 Test Method, 123 per ISO 11475 Test Method
Primary material: Cotton and Polyester

Made in USA


Stretcher Bar


A stretcher bar is used to construct a wooden stretcher frame used by artists to mount their canvases or by canvas printers.They are traditionally a wooden framework support on which an artist fastens a piece of canvas. Stretcher strips can be made from wood, metal, or a combination of the two. Cross braces are used to provide additional support to the frame, to keep it square, and to help prevent warping and twisting.

Pictorem uses Premium Nordic Canadian Pinewood, recognized to be durable, strong and Lightweight.